In Memory
Jerry Dreyer (Senior Loader) - Class of 2010 VIEW PROFILE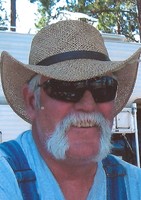 Jerry Dreyer
1946 -2012
MISSOULA – Gerald Thomas "Jerry" Dreyer, 66, of Missoula, passed away September 14, 2012, at St. Patrick Hospital.
Jerry was born July 17, 1946, in Great Falls to Harold and Alice Doheny Dreyer. He grew up on the family ranch near Power. Jerry left the ranch to serve in the U.S. Navy on board the USS Enterprise through three tours in Vietnam.
Jerry met and married Donna Cimino in Santa Clara, California, in 1967. In 1976 they moved to Missoula and have lived here since. He was an avid outdoorsman who loved to hike, hunt and fish. Jerry retired from the Smurfit-Stone Container Corp. after 30 years of service.
He was preceded in death by his mother Alice, sister Caroline, father Harold, and his beloved border collie Barney in July.
Jerry is survived by his wife of 45 years, Donna; sons Gerald "Jerry" Thomas Jr. (Lisa) of Butte and Adam (Beth) of Gardiner; stepmother Tatiana Dreyer of Pullman, Wash.; brothers and sisters, Dale (Suzee) [A-Rate - Pipefitter - Fire Systems] of Missoula, Karen (Jerry) Burell of Arkansas, Launa Hair of Seattle, Louise of Olympia, Wash., Carol of Olympia, Hal (Pam) of Longview, Wash., Tania (Ken) Swagner of Pullman and Paul of Choteau; eight grandchildren, Alexa, Jeffrey, Jade, Austin, Brooke, Shelby, Sadie and Kody; and numerous nieces and nephews.
Memorial services were held Wednesday, September 19, at Garden City Funeral Home. A potluck reception follow. Friends and family gathered at the family home following the reception.
Jerry's two sons and four brothers were honorary pallbearers.
A special thank you to Shannon and Brad for all the help you gave, and the first responders who helped.
Rest in Peace dear Friend.
Click here to see Jerry's last Profile entry.