In Memory
Pauline Garner (Executive Secretary) - Class of 1999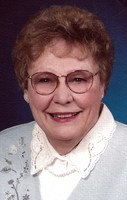 Pauline Lorene Jadwin Garner Kober
October 20, 1932 – August 5, 2012
MISSOULA – Pauline's journey on earth ended and her eternal life in heaven began Saturday, August 5, 2012. Pauline was born October 20, 1932, in Phelps County, Missouri, to Irene Blanche (Schmideke) and Paul Lucien Jadwin. She attended schools in Rolla and St. Louis and later Barstow Community College in California.
She married Walter Garner on December 25, 1948, in St. Louis. To this union three children were born, Walter Jr. [Chip Dock], Wayne [Paper] and Rosanne [Buyer]. Walter preceded her in death in 1987, and their son Wayne died in 2001. She married Arnold V. Kober on July 24, 1999.
She is survived by husband, Arnold Kober; son, Walter (Karen) and their children Ryan (Sandee) and their daughters Paige and Kallee and Kasie (Brandy) and their sons Brady and Kaleb; daughter, Rosanne and her sons Adam and Neal Stensrud; and Wayne's children, son, Kristopher (Karmen) and his children Cody and Sierra (and a new great-grandchild due this fall), and daughter, Karisa (Chris) Marshall. She is also survived by Arnold's children, Vickie and her daughter Amelia; Timothy (Valerie) and sons Michael, Alex and Andrew: and Steve (Stacy) and their daughter Olivia. She is also survived by two feline companions.
Due to her husband's career in the Army, the family moved several times – to Virginia, the Panama Canal Zone, California, Pennsylvania, Germany and Montana, where Walt was stationed with the ROTC at the University of Montana and eventually retired. Pauline worked 25 years at Hoerner Waldorf, Champion International and Smurfit-Stone Container as the executive secretary to the mill manager. She retired in 1999.
Pauline had a solid, personal relationship with her Lord and Savior Jesus Christ and this was most important to her. Found in her personal belongings after she passed was a letter to the family encouraging us to remain strong in our personal faiths so that we can all be reunited again someday.
Pauline enjoyed her family, and times spent with them were her most precious memories. She also loved to read, crochet, collect stamps and postcards, traveling and music. She and Arnie were able to travel to Europe and cruise to Alaska, which were high points in her life.
A fitting celebration of Pauline's life was held at 10:00AM, Thursday, August 9, at Garden City Funeral Home. Honorary pallbearers are her grandchildren, Ryan, Kasie, Kris, Karisa, Adam and Neal.
Instead of flowers, the family suggests a donation to Missoula County Cancer Society, Hospice of Missoula or a charity of your choice. Pauline really felt strongly about a donation being made in her honor in lieu of flowers.
Condolences for the family may be left at www.missoulafuneralhomes.com.
Rest in Peace dear Friend.