In Memory
Jack Cheatham (Recovery Assistant Superintendent) - Class of 1998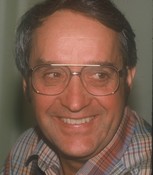 John C. Cheatham
ARLEE - John Calvert (Jack) Cheatham died Sunday, August 15, 1999, at St. Patrick Hospital after a short battle with cancer.
Jack was born to Robert Lee and Leta M. Cheatham at Greybull, Wyoming, on January 13, 1933. His family moved to the Nine Mile area and then to the Orchard Homes area of Missoula. Jack enjoyed western Montana's rural areas, mountains, and schools, living in Alberton and Missoula until the eighth grade.
In 1946, Jack's family moved to Arlee to farm. He attended high school there and graduated valedictorian of his class. In 1951, Jack's father passed away and he decided to remain at home to run the family farm.
During high school, Jack met Lois, his future wife. On August 28, 1954 Lois Anne Bruner and Jack married. They lived in the Arlee and Missoula areas for the past 45 years.
Jack worked 10 years for the Northwest Breeders as the Lake County artificial insemination technician. For the following 31 years, he worked for Stone Container Corp. retiring in 1998. During this time he built several houses and an apartment building. He also became a skilled furniture and cabinetmaker.
Music, gardening, fishing and enjoying people were important to Jack. He was a self-taught rhythm guitarist, playing in a country western band for many years. As his children grew, they formed a family band playing at family gatherings and community events. His many fishing trips included his children and grandchildren. For these, he will be remembered as a special father and grandfather.
Jack was preceded in death by his parents and elder sister, Lela Harrington.
Surviving family that will miss him very much include his wife, Lois; three children, Robert Lee Cheatham and his wife, Staci and their daughters, Jennifer and Jill of Seattle, Jackie Johnson and her husband, Robert and their children, Ryan and Ashley of Missoula and Jace Cheatham and his wife Lisa, and their children, Kenyn and Kael of Scottsdale, Ariz.; and Jack's sister, Dalene Doney of Arlee.
Services will be at 2 p.m. Thursday, Aug. 19 at The Malletta Family of Funeral Homes, Sunset Chapel, 7405 Mullan Road, with the Rev. Steve Oreskovich of Holy Spirit Episcopal Church officiating. Interment will follow in Sunset Memorial Cemetery. A reception will follow in the funeral home's community room.
The family suggests memorials in Jack's name may be made to St. Patrick Hospital Cardiac Care Unit or the Cancer Center, 500 W. Broadway, Missoula, MT 59802.