In Memory
Jerry Bartels (Paper Mill Superintendent) - Class of 1990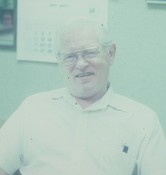 Gerald "Jerry" Bartels
MISSOULA - Gerald "Jerry" Bartels, 59, of Missoula, died of ALS -- Lou Gehrig's disease -- on Friday, June 28, 1991, at St. Patrick's Hospital.
Jerry was born September 10, 1931, in DeSmet, South Dakota, to Arthur and Eva (White) Bartels. He moved to Lebanon, Oregon at a young age and in 1950 married Sally Davis.
The couple moved in 1960 to Missoula. Mr. Bartels worked at the Frenchtown mill for over 30 years and retired as the Paper Mill superintendent for Stone Container. He left the mill on July 1, 1990, after over 41 years in the paper industry.
An avid sports fan, he especially enjoyed golfing and fishing and was a very loving and caring father and husband.
His brother, Richard, preceded him in death.
Survivors include his ex-wife, Sally(*), Missoula; two daughters and sons-in-law, Sherry and Robert Hall, Salem, Oregon; and Suzan and Michael Seery, Great Falls; a brother, Sidney Gresham, Oregon; a sister, Joyce Ruberti, LaGrande, Oregon; and six granddaughters.
Services were held at the Garden City Funeral Home & Chapel in Missoula with the Rev. Glen Moyer officiating. Burial followed at the Odd Fellows Cemetery in Lebanon, Oregon.
The family suggests memorials to the Amyotrophic Lateral Sclerosis Association, 21021 Ventura Blvd., Suite 321, Woodland Hills, CA 91364.
Rest in Peace dear Friend.
(*)

Sally Fae Bartels Austin passed away March 2017 in Salem, Oregon.