In Memory
Bill Richardson (Maintenance Manager) - Class of 1987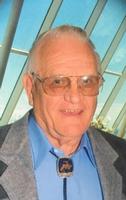 Bill Richardson
MISSOULA — William "Bill" Richardson, 89, passed away from natural causes in his home on August 16, 2018, in Missoula.
Bill was born to Harold and Elsie Richardson on October 7, 1928, in Missoula. He went to school in both Missoula and Georgetown, Colorado. Bill married Dolly G. Prociv on October 2, 1963, in Missoula.
He began a 33-year career in the paper industry as part of the construction crew that built the original paper mill in Frenchtown. He worked many positions that culminated as the Maintenance Manager for Stone Container Paper Mill. Bill was a veteran of the Korean War and served in the Army in Germany. He was a part of the Missoula County Sheriff's Posse, involved in the Missoula Snowgoers Association, and a faithful blood donor for the American Red Cross.
Bill was always involved with his family and enjoyed spending his time snowmobiling, four-wheeling, boating, hunting, tinkering with his many mechanical projects and improving everything he worked on. He was always willing and happy to share his knowledge with others.
Bill is preceded in death by his sister Alice Miller. Bill is survived by his wife Dolly; three daughters, Roxane (Steven) Percival, Leiloni (Kim) Kammerer, Stephanie (Nicholas) Barfuss; four grandchildren, Amber, Clayton, Bryce, Kevin and three great-grandchildren, Madison, Charlotte, and Lucas.
In lieu of flowers, donations can be made to the American Red Cross. Please make donations to: In Memory of — Bill Richardson, 1300 28th St. S., Great Falls, MT 59405.
Bill's family wishes to extend our sincere thanks to Partners in Home Care Hospice, and to all of those who have offered their condolences.
Bill's wishes were to be cremated and there will be no services at this time.
Rest in Peace dear Friend.