In Memory
Dave Gierke (Project Engineer) - Class of 2010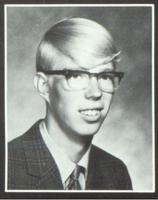 FRENCHTOWN – David Earl Gierke, 57, passed away on Saturday, November 5, 2011 at St. Patrick Hospital after a courageous battle with cancer. Dave was born and raised in Fort Benton, Montana and graduated with a mechanical engineering degree from Montana State University. David worked for Champion International Corporation and Smurfit-Stone Container Corporation over a span of 27 years. David worked as a consulting engineering most recently with Evergreen Engineering and also JHI Engineering.
Teresa Campbell and David fell in love and were married in 1981. Together they raised three great children. Dave's hobbies were restoring classic Mustangs, and attending and organizing many car shows in the Northwest and western Canada. He enjoyed many years of RVing, boating at Flathead Lake, playing cards and enjoying microbrew with good friends.
David was devoted to his loving family, home and God. He could be counted on to lend a helping hand, offer encouragement and fix things. We all loved David and he will be greatly missed.
David is survived by his wife Teresa, and their children; Chris Gierke, Michelle Gierke (Summer Student) and Kevin Gierke, and his sister Patty Gierke, his mother Elise Gierke and brother-in-law, Gary Fisher (Turbine Operator) and his wife, Jeri Fisher (Teresa Gierke's sister and Dewey Campbell's daughter), and other brothers-in-laws and sister-in-laws.
David is preceded in death by his father, Earl Gierke and brother, Fred Gierke. The family thanks Dr. Sally Scott, the caring nurses and staff on the 4th and 5th Floor at St. Patrick Hospital as well as all those that sent such beautiful flowers.
A memorial service was held Friday, November 11th at Sunset Memorial Funeral Home, with a graveside service and reception that followed at the funeral home.
Rest in peace dear friend.