In Memory
Howard Higgins (Pulp Mill Assistant Superintendent) - Class of 1989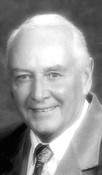 SEELEY LAKE – Howard L. Higgins, 74, passed away at home on Christmas Eve, Dec. 24, 2009, from cancer.
Howard was born on May 16, 1935, in Norton, Kansas, to Eva and Walter Higgins.
Howard graduated from high school and shortly thereafter enlisted in U.S. Navy and served honorably.
Howard spent his working career working at the Pulp Mill and eventually become the Assistant Pulp Mill Superintendent.
He spent 53 wonderful years married to Patricia; he was actively in involved in VFW Post 7992. Howard loved fishing, hunting, camping, golf and working in his garden. He was involved in Little League and Senior League Baseball; he coached for 10 years when the boys were young.
Howard was preceded in death by his mother Eva; and father Walter; and one sister.
He is survived by his wife Patricia of Seeley Lake; two sons Michael of Havre and Thomas of Seeley Lake; he is also survived by two daughters Kelly of Seeley Lake, and Shelly and her husband Tim of Stevensville. He is further survived by eight grandchildren, Jenny, Terra, Justin, Kendra, Amy, Becca, Lana and Tessa; and six great-grandchildren, Dimitri, Vasiliy, Ivan Jr., Nikolay, Amber and Jazell.
In lieu of flowers donations can be made to St. Judes Children's Hospital.
A graveside service was held at 1:00PM, Saturday, January 2, 2010 at the Sunset Memorial Cemetery in Missoula. A reception followed the graveside service in Seeley Lake at 3:30PM.