In Memory
Gary Crouch (Guard -Truck Control) - Class of 2007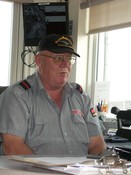 Gary Crouch
Garold Crouch passed away Sunday, May 20, 2018, doing what he loved best, spending time with his friends. He requested there be no funeral or obituary. The celebration of Gary's life was held at the Milltown Moose Lodge June 3rd.
Rest in Peace dear Friend.
----------------------------------------------------------------------------------------------------------------
Moose come to Milltown: Fraternal order takes over iconic bar
KIM BRIGGEMAN ● April 1, 2017 ● Montana Standard
MILLTOWN – The feel's the same, what with those familiar animal heads under Plexiglas on the front wall and an aura of dark escape from the world that rattles by outside.
But you can't say the historic neighborhood bar formerly known as Harold's Club has reopened.
"It's really repurposed," said Mark Wildung, the lodge administrator. "It's now Milltown Moose Lodge 2714."
That became official February 22, when papers were signed with Moose International to create its second lodge in Missoula County.
On Saturday, with no intentional connection to April Fool's Day, the new lodge opened its old doors to the general public for a one-day open house.
Harold's Club closed for good in September 2015, when Karen Keeley retired after more than 20 years of running it and sold the liquor license to the newly renovated Wilma Theater in Missoula.
The 17-month hiatus is one of the longest for this building since river man Fred Thibodeau opened the Thibodeau Brothers' Midway Bar with brother Bill in 1908.
Some things have changed. The Milltown Moose Lodge opens Wednesdays through Sundays at 2 p.m. It's a private club, which isn't a handle its blue-collar patrons wear comfortably.
That means it's open to the all-male Moose Club and guests of any gender who are asked to sign in to a log book "to protect our license," Wildung said.
Prospective members can patronize the lodge twice. It costs $20 for an application fee and annual dues of $45. Wildung said there's a whopping 123 men on the list so far.
"It's a community project, so it's not just good old boys trying to keep their water hole."
An affiliated Women of the Moose club is in the formative stage as we speak, he added.
Missoula's long-running Moose Lodge 556 and its Women of the Moose associates are still "functioning fine" out of the old 10th Street Tavern on Kemp Street, Wildung said.
He lives in the Bonner area and belonged to the Missoula lodge, but his attempt to persuade members to buy the larger Harold's Club building and move out of town was voted down. With help from the likes of area residents like Garold Crouch, Wildung began a campaign to establish the new lodge.
They were running against the wind.
Nationwide, more than two dozen Moose lodges closed their doors last year for lack of support. Wildung was told the Milltown lodge is the only new one in the United States.
"I just hated to see ol' Harold's die and go away," said Crouch, who grew up in nearby Piltzville and helped keep the bar in business for 40 years.
To be viable in the eyes of the Moose, the new club needed enough money to operate for the first three to six months. Membership dollars go to Moose International, so the community had to raise the start-up funds itself.
They did it over the past year with Friday night potluck dinners at Harold's.
"Nothing huge," Wildung said. "I think the shrimp dinner for $10 was the most we charged. But little by little we as a community got together and raised the money. There was no one big person who contributed."
It was made possible by Keeley, who still owns the building but was a guiding force for the Moose takeover.
"We couldn't have fallen into a better deal," Crouch said. "Karen Keeley just bent over backwards to make sure we would be able to get into it."
"Through the cooperation of Karen, we were able to use it at no cost," Wildung said. "She paid the power bill and everything. She in effect would have been the biggest donor to this cause."
The lodge signed a lease-purchase agreement for the two-story building on Jan. 1.
Even before they were official last fall, the Milltown Moose chipped in to help pay expenses for a Bonner School student who was burned in a house fire.
They'll be teaming with Friends of Two Rivers and Outdoor Life Ministries to put on the annual Hellgate Lions Easter Egg hunt on April 15 after the area Lions Club folded.
"Locally we'll support any cause, but we mainly function for the kids," Wildung said. "Our emphasis out here is going to be on Clinton, Potomac, Milltown, Bonner, West Riverside ... those kinds of places."
As word gets out, the Moose hope to open their lodge doors to community events.
"We'll make it available for anyone who wants to use it. If the Boy Scouts want to hold meetings here, they can," said Wildung, adding a dividing wall can separate the social quarters from the back area.
The bar includes a full industrial kitchen which serviced a number of food businesses over the years, though Crouch said initially "we'll probably throw in a couple of pizzas and hamburgers."
The kitchen will eventually come in most handy for community events, he figures.
Like other Moose organizations, the Milltown lodge supports Mooseheart and Moose Haven on a national basis.
Mooseheart, located on a 1,000-acre campus west of Chicago, is a home for children and teens in need. Moose Haven, in north Florida near Jacksonville, offers an independent living option to retired Moose members and spouses.
Money for those and local causes come mainly from proceeds of beer, wine and liquor sales at the Milltown lodge.
Wildung said as a fraternal order, the lodge paid the state application fees totaling $1,400 as well as an annual fee. But the all-beverage license itself comes no charge.
Christie Magill of the Department of Revenue said licenses for veterans or fraternal organizations aren't subject to the quota limitations that other bars and taverns are. But they aren't transferable, either.
Harold's Club bore the name of its late long-time proprietor, Harold Herndon, who initially operated the bar as The Milltown Union Club (Laundromat & Cafe). That was the title of a poem from the early 1970s by Herndon's friend and faithful customer, Richard Hugo, who headed the University of Montana's creative writing program.
"You could love here ..." Hugo's tribute began.
Once again, you can.