In Memory
Jim Wilson (Wood Procurement) - Class of 1990 VIEW PROFILE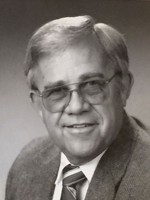 Jim Wilson
MISSOULA – H. "Jim" Wilson was born August 17, 1929, in Harvey, Illinois, to Hazel and Harold Wilson and passed Friday, January 16, 2015, at Hillside Manor in Missoula. His younger years were spent in various areas of Illinois and Indiana.
Jim joined the Navy and proudly served as a submariner aboard the USS Bugara stationed in Hawaii. Following his service, he attended college at Purdue University before moving west to finish his education at the University of Montana School of Forestry. Jim worked for the Anaconda Co., Clark Fork Logging, Champion, Stone Container and retired from Smurfit-Stone.
Jim had a real zest for life and took all of us with him wherever his path led him. He worked hard and played hard. Jim was fun, kind and loved to laugh a lot. He loved to sing dirty little dittys on his ukulele, dance, travel, Bud Light, golfing, building furniture, photography, his membership in the DPR at Reds Bar and, of course, our home on O'Brien Creek.
He was preceded in death by his parents; both sets of parents-in-law; his brother, Duane; and ex-wife, Rosie. Also by his "we'll never have a dog" best pal, Bubba-Lou. He is survived by his wife, Connie; "the rad" sons, Jim Wilson (Colleen) and Jeff Wilson (Shelly); daughter, Julie Martin; his stepchildren, Bill Porteous (Debie) and Susan Gallagher; his brothers, Maury Wilson (Linda) and Lanny Wilson (Jane); brother-in-law, Bob Peterson (Sylvia); and Marilyn Washburn (Mick). He is also survived by 10 grandchildren and 12 great-grandchildren.
A special thanks to the Veterans Affairs Drs. Rosenbaum and Nevin, Riverside Health Care, St. Peter Hospital in Helena, granddaughter Suzi Porteous and Marisa at Hillside Manor for finding us a place by home for Jim to spend his last days with us. Also Partners Hospice for all its support. Jimmy, you were my everything and from now through eternity when we are together again, I will love you. – Rad
No services are planned at this time. Jim's remains will be interred at the Western Montana Veterans Cemetery in Missoula in the springtime. Condolences and memories may be shared with the family at brothersmortuary.com.
Rest in Peace dear Friend.
Click here to see Jim's last Profile entry.