In Memory
Gary Edwards (Maintenance Supervisor) - Class of 1990
Gary Edwards
Gary Warren Edwards, 78, of Missoula, passed away on Friday, January 6, 2017. He was born in Weirton, West Virginia, on January 6, 1939. Gary Edwards and Loretta Jean Petrelle were married in Hancock, West Virginia in 1964. They moved to Missoula in 1969.
Survivors include his wife Loretta; their two daughters, Natalie (Bryan) Marx and Stephanie (Jeff) Duffill and their son Steven (Alissa) Edwards; two brothers, Lee and Larry Edwards; along with seven grandchildren.
Rest in Peace dear Friend.
---
Gary and Loretta Edwards' son, Steve, an Air Force combat pilot, saved the lives of eight servicemen after his helicopter was struck by a rocket propelled grenade in Iraq in 2004. He received two national awards and a Purple Heart.
Air Force Capt. Steven Edwards received the 2004 Koren Kolligian Jr. Trophy on May 6, 2005 from Air Force Chief of Staff Gen. John Jumper during a ceremony at the Pentagon. The Koren Kolligian Jr. Trophy recognizes outstanding feats of airmanship by aircrew members who by extraordinary skill, exceptional alertness, ingenuity, or proficiency, averted accidents or minimized the seriousness of the accidents in terms of injury, loss of life, aircraft damage, or property damage.
Days later, he received the annual Aviator Valor Award given by the American Legion.
Edwards was leading a two-ship formation providing supplies to combat troops fighting Iraqi insurgents in Fallujah when they ran into enemy fire near their first landing zone. Steve saw the flash of the RPG just before his $40 million Air Force helicopter pitched upward 80 degrees as shrapnel blew past him and his crew. The blast destroyed the instrument panel and the center windscreen between Edwards and his co-pilot, said his father, Gary.
Steve was able to bring the helicopter back under control, despite suffering a dislocated shoulder and injuries to his face, eye, arms and legs. With the loss of lighting in the cockpit and automatic flight control, Edwards had no way to judge his rate of descent, ground speed or altitude. Within about a minute, Edwards found a way to land the helicopter in a nearby wheat field. However, the engines continued to roar.
"He couldn't shut them down with all the instruments gone," Gary said. "He had to sit there at the controls, knowing the whole time that the enemy was approaching. He told us later that he knew that he could be shot at any moment while sitting there. Flight engineer Robert Colannino Jr. started tearing down fuel lines from the ceiling of the helicopter's cabin and the engines finally slowed to a stop.
The enemy advanced to within 200 meters of his position before another helicopter swept in and rescued Edwards and eight other servicemen.
"Capt. Edwards' acts of valor and imperturbable leadership saved the lives of nine U.S. service members," said the Aviator Valor Award citation. "The professional skill and airmanship displayed by Capt. Edwards reflect great credit upon himself and the United States Air Force."
Edwards, who had just completed a third tour in Iraq, was also presented with the Purple Heart.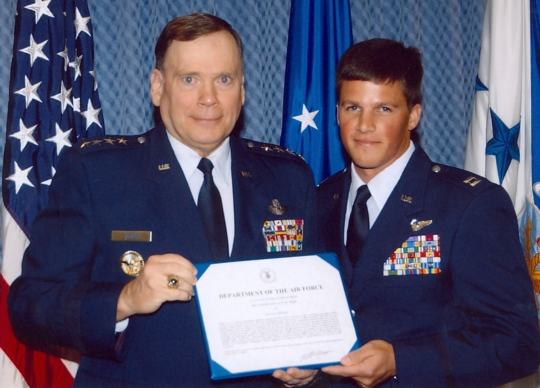 Chief of Staff Gen. John Jumper and Air Force Capt. Steven Edwards. Capt. Edwards was awarded the 2004 Koren Kolligian Jr. Trophy