In Memory
Winnie Osburnsen (Administrative Assistant Production) - Class of 1990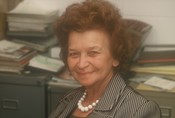 WHITEFISH - Winifred "Winnie" Osburnsen peacefully passed away on Tuesday, March 28, 2006, surrounded by family at her daughter and son-in-law's home in Whitefish.
Winifred was born in Havre on September 2, 1918, the eldest of Martha and Hiram Bickle's five children.
After graduating valedictorian from Havre High School, Winnie moved to Great Falls, where she met her husband-to-be, Laurence Osburnsen. They married in Arkansas in 1942, while Larry was in the Army Air Corps. After his discharge, the couple moved often for Larry's employment with the Department of Agriculture and in 1952 settled in Butte. Winnie fondly remembered her years in Butte and employment as the private secretary for the manager of Hennessey's.
In 1961, the family moved to Missoula. Winnie quickly became employed at the Hoerner-Waldorf paper mill, where she proudly worked until the age of 72, when she chose to retire rather than learn computer skills.
Always interested in journalism, Winnie was editor of both the mill and church newsletters. She was known for clipping Missoulian articles and sending them to family and friends and often submitted her own letters to the editor. She also wrote poems that were expressions of deep feeling, especially after the loss of her son Jim. She found great pride in the fact that several of these poems were published.
A faithful Christian, Winnie was ordained a deacon of the Missoula First Presbyterian Church in 1988. She enjoyed assisting with the church Logos program for children and being a Friendly Visitor. An active volunteer, she served on committees and boards of Habitat for Humanity, the Cancer Society, YMCA, a local credit union and the Secretaries' Club.
She opened her heart and home to people from around the world; Laotian refugees, students from China and Japan, visiting international choir groups and others in need of shelter. She provided room and board for her grandsons and many students studying at the university.
Winnie delighted in traveling. Trips to Africa, China, South America, Japan, the Caribbean, Hawaii, Mexico and Alaska were well documented with photos joyfully shared with family and friends. But most of all, Winnie loved Montana and believed there was no better place in this big, wide world to live.
Her garden was filled with bright flowers, colorful bushes and an old maple tree. Birds, squirrels and deer seemed to know it was a safe sanctuary. Friends came often for clam chowder dinners and guests frequently left with loaves of delicious zucchini bread. Winnie was always ready for a dance, concert, or Griz game, especially with her friend Bud Vacura.
Winnie walked gently in this world - offering words of encouragement and assistance. She will be remembered for her sweet smile, compassion and intense love of family and friends. Winnie is surely now with her son Jim who passed over in June 1975.
She is missed very much by daughters Diane Osburnsen and Linda Gwiazdon and son-in-law Mike; her six grandchildren, Shane Reese and wife Tina, Scott Reese and wife Tricia, Koan Mercer and Staci Hemmer, Matt Gwiazdon, Courtney Gwiazdon and husband Matt VanVlack and Millie Flanigan and husband Gardner; and six great-grandchildren.
A celebration of Winnie's life was held in May 2006 at the Missoula First Presbyterian Church.