In Memory
Del Graves (Paper Mill Supervisor) - Class of 1991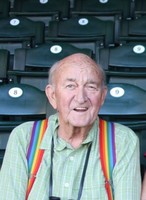 Del Graves
MISSOULA — Delbert K. Graves, Jr., 83, passed away peacefully on Monday, June 12, 2017, surrounded by his loving family. Del was born on March 8, 1934, to Delbert and Alma (Rumley) Graves in Plains. He graduated from Polson High School in 1953 and attended Carroll College and the University of Montana.
Del began working for the U.S. Forest Service as a seasonal employee while still in high school, constructing trails and fighting wildfire in Big Prairie in the Bob Marshall Wilderness. In 1955, Del continued his work with the Forest Service, working in forest management for three seasons at the Sylvanite Ranger Station in the Yaak. In 1961 he began his career as a papermaker at the Frenchtown paper mill, retiring as a shift supervisor in 1991. After his retirement, Del assisted his wife at The Learning Tree, the store they opened in 1985.
Del married his high school sweetheart, Bev, in 1955 in Polson. They made their home in Missoula until 2001, when they sold their home and business. Del and Bev then spent their winters in Mexico and Texas and their summers working for Montana Fish, Wildlife and Parks as campground hosts at Thompson Lake and Lake Mary Ronan. Failing health caused Del to resign his position with FWP and they returned to Missoula full-time in 2016.
Del was an avid supporter of athletics in Missoula. He coached Little League and Babe Ruth baseball and helped rebuild the Playfair Baseball complex. He coached Little Grizzly football and women's fast pitch softball for many years. Del was involved in various aspects of Grizzly athletics. He served as president of the Grizzly Athletic Association, and was instrumental in fundraising for Washington Grizzly Stadium. In 1994, Del received the Ray T. Rocene Sportsman of the Year Award. Among the outdoor activities he enjoyed were camping, fishing, hunting, and simply walking through the woods.
Del is survived by his wife of 62 years, Bev (Lind), children: Emmy (Norm) Johnson, Mary (Rick) Stone, Tom (Dany) Graves, Steve (Loralee) Graves, Liz (Rob) Dunn, Susan Lane, and Bill (Korri) Graves, honorary sons: Roy (Sandi) Robinson, Jim (Kathy) Notaro, and Andre (Donna) Patterson, 16 grandchildren, 19 great-grandchildren, and brother John (Joreen) Graves.
In lieu of flowers, donations may be made to Spirit of Peace Church in Missoula.
Rest in Peace dear Friend.