In Memory
Wanda Broeker (Engineering Secretary) - Class of 1998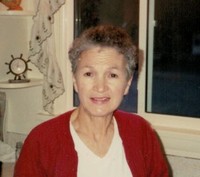 Wanda Mae Wight Broeker
MISSOULA — Wanda Mae Wight Broeker, 87, of Missoula, passed away Saturday afternoon, January 13, 2018, at The Village Health Care Center where she lived the last two years. Wanda was born December 3, 1930, in Hall, Montana the daughter of Alice and Francis Wight. She was raised in Hall, on the family ranch where she worked hard haying and feeding hired hands. She attended school in Hall and had many adventures with her sister, Evelyn, and friends, including ice skating and roasting wieners in the middle of the road. Wanda worked for Stone Container for many years at the Frenchtown mill, first as the Secretary of the Maintenance Department, and then as the Engineering Department Secretary. Wanda loved working in her garden and grew beautiful flowers and delicious vegetables.
She married George Broeker and they had two sons, Daniel and Lee. They later divorced. Lee and Dan passed away in 2010 and 2013 respectively. She was also preceded in death by the love of her life and longtime companion, Phil Dandrea. She was heartbroken when he passed in 2005. Her sister, Evelyn, also preceded Wanda in death in 2015.
Wanda cared for both her sons throughout their lives as they lived in her home into their 50's. Wanda's dear nieces Kim and Lesa, Evelyn's daughters, saw that Wanda was well cared for when she could no longer live independently.
A memorial service was held Friday, January 19 at Garden City Funeral Home and a reception followed in the funeral home's community room. Placement of the urn into a niche will take place at Missoula Cemetery. Condolences for the family may be left at gardencityfh.com.
Rest in Peace dear Friend.