In Memory
Cleo Schroeder (Maintenance Superintendent) - Class of 1990 VIEW PROFILE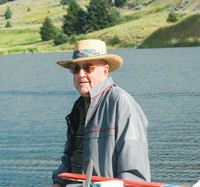 Cleo Schroeder
SUN CITY, Arizona – The heavenly gates were opened for Cleo H. Schroeder on Saturday, February 25, 2017.
Cleo was born in Williston, North Dakota, in December 1924 to Margaret (Vandeberg) and Henry Schroeder. The wheat fields of North Dakota were his backyard and the family's main livelihood. He was an industrious and adventurous young man, building a scooter using a lawnmower engine, and his first model plane at age 14. After graduating from DeLaSalle High School in Minneapolis in 1943, he attended the Lincoln Aeronautical Institute for one year. His love of aeronautics continued throughout his life: he was an accomplished RC modeler and pilot, with remarkable planes (and a few crashes) to his credit. Cleo served in the U.S. Army Paratroops, 82nd Airborne, European Theatre from 1944-1946. Handwritten letters to his sister during those years provide insight into his experiences and are a family treasure. Of note is one describing his first jump from the plane. After his honorable discharge, he moved to Missoula to attend college. It was there he met Nadean Kircheis, who became his lifetime companion when they married March 20, 1948. After earning his bachelor of science degree in forestry from the University of Montana, they moved to Polson, where he worked for the Soil Conservation Service for one year, then transferred to Cut Bank. His job included stints in Glacier National Park, often on horseback. After another year, he traded the adventurous job for the potential of higher earnings when he was recruited by Union Oil where he trained to be an electrician. This would be his career field for the rest of his life.
In 1959, the young family moved back to Missoula when he took a job as an electrician for Hoerner-Waldorf Paper Company, where he stayed until he retired as Electrical Superintendent over 30 years later. After retirement, Cleo and Nadean spent time in Myrtle Beach, South Carolina, West Yellowstone and Sun City, Arizona. Cleo loved nature, and found solace amongst the pines. He could fix anything, built and flew model planes, fished, snowmobiled, skied, hiked, and instilled his appreciation for nature in each of his children. Summers were spent camping with family at Hebgen Lake. He was one-of-a-kind, and loved those dear to him in his own special ways.
Cleo was preceded in death by his wife Nadean in 2013. His children survive him: Lon (Laura) Schroeder of Helena, Laurie (Dave) Claxton of Billings, Karen (Troy) Joiner of Castle Rock, Washington, Steve (Tyra) Schroeder of Columbia City, Oregon, along with his grandchildren: Christopher and Patrick Schroeder; Shawn, Mark and Kevin Claxton, Kim Ferguson; and Lee and Stephen Kearcher. He has several great-grandchildren and numerous nephews.
A funeral mass was held March 3, at St. Elizabeth Seton in Sun City, Arizona. Burial followed at Sunland Memorial Park also in Sun City. Hospice of the Valley provided excellent care to Cleo in his last months, and he appreciated the care he received at Heritage Palmeras as well. Donations to Hospice of the Valley in Cleo's memory would be welcomed. Condolences may be offered to Cleo's family by visiting sunlandmemorial.com.
Rest in Peace dear Friend.
Click here to see Cleo's last Profile entry.