In Memory
Cliff Kahler (#5 Recovery Field Fireman) - Class of 1997 VIEW PROFILE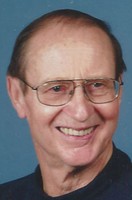 MISSOULA – Clifford Kahler, 79, passed away Saturday, December 28, 2013, at home from heart failure. He was born August 28, 1934, in Chasely, North Dakota, to John and Maggie Kahler. He was raised in Tuttle, N.D., graduating from Tuttle High School in 1952. Clifford joined the Navy in 1953 and was a Veteran of the Korean War. Following his Honorable Discharge in 1957, he moved to Missoula where he continued to reside. He worked for the Coke Company, delivered beer for Missoula Distributing Co., and then Stone Container, retiring after 25 years.
Cliff had two sons from a previous marriage. In 1983, he married Phyllis Camitsch and gained three daughters.
He was a member of the Eagles, VFW, and American Legion. His neighbors appointed him the official "Mayor of Humble Road." He loved to dance with his wife (and lots of other ladies). He enjoyed drinking beer and entertaining friends and family by the pool in his back yard. He would always say he was a "tough SOB!"
Cliff was preceded in death by his parents and 10 siblings.
Survivors include his wife Phyllis; two sons, John and Robin Kahler, both residing in Arizona; three daughters, Tawnia of Missoula, Tamara (Rick) of Florida and Amy (Chad) of Virginia; six grandchildren, Jacob, Jeneya Ashley, Brittany, Alaina, Makenna and Kaden; his sister, Jackie Lloyd; his two sisters-in-law Freda and Stoney, and numerous nieces and nephews – in his words: "One helluva bunch!"
Graveside services were held at 1 p.m. Friday, January 10, at the Western Montana State Veterans Cemetery. A Celebration of Life and luncheon followed at the Eagles Lodge.
Donations may be made in honor of Clifford at the Western Montana State Veteran Cemetery, 1911 Tower St., Missoula, MT 59804; or Partners in Home Care Hospice Services, 2687 Palmer St. Suite F, Missoula, MT 59808.
Rest in Peace dear Friend.
Click here to see Cliff's last Profile entry.