In Memory
Stan Green (Chip Analyst) - Class of 2008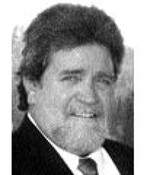 MISSOULA - Stanley (Stan) Lewis Green, age 50, of Missoula, passed away January 9, 2008. Services were held on Monday, January 14. A public viewing began at 10 a.m. until 12:30 p.m., with ceremony to follow at 1:00PM at Garden City Funeral Home. Interment followed at Sunset Memorial Cemetery.
Stan is survived by his two sons and daughter-in-law Cory and Chandelle Green of Spokane, Wash., and Chad Green of Reno, Nev.; parents Melvin and Arlene Green of Great Falls; brother Steve (Jane) Green of Great Falls; sisters Laurie (Larry) Pfau of Lolo, and Lynette (Brent) Souther of Lakewood, Colo.; aunts, uncles, cousins, nieces and nephews.
Stan was born on Friday, December 13, 1957, in Salmon, Idaho. He started school in Burley, Idaho, and graduated from C.M. Russell High School in Great Falls, Class of 1976. He was married to Robin Webb for 25 years. Stan moved to Missoula in 1978, where he raised his children and lived out one hell of a life.
Stan worked for Stone Container since he moved here in 1978. In that time he had many hobbies, from watching and coaching his boys playing football, basketball and baseball through the years. He also loved the outdoors, golfing, and any other sport that would challenge him. If you knew Stan in the last few years, you would also know his love to travel across the country on the back of his Harleys. In his words, "When I travel, it is the only way I want to go."
He is loved and missed by all who knew him, if for a moment or for years.