In Memory
Wayne Garner (Paper) - Class of 1995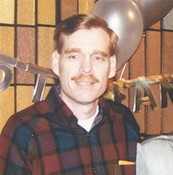 MISSOULA - Wayne Edward Garner, 50, of Missoula, passed away Wednesday, December 19, 2001, at St. Patrick Hospital from complications of a prolonged illness.
He was born June 13, 1951, in St. Louis, the son of Walter C. Garner and Pauline (Garner) Kober.
Wayne graduated from high school and on February 16, 1974, he married Linda Rae Erickson; they later divorced. He worked as a salesman for Sheehan Majestic for six years before going to work at the mill in Frenchtown in 1979. Wayne remained there until his health forced him to retire in 1995.
Wayne was a car enthusiast and he also liked collecting beer mugs. In his later years, Wayne enjoyed making jewelry.
Wayne was preceded in death by his father Walter C. Garner. He is survived by one son, Kristopher Garner and Kerry; grandson Cody Garner; one daughter, Karisa Garner; his mother and stepfather Pauline and Arnold Kober; brother and sister-in-law Walt Jr. and Karen Garner; sister Rosie Garner; nieces and nephews Ryan and Sandee Garner, Kasie and Brandy Garner, Adam and Neal Stensrud; and numerous aunts and uncles.
Services were held at 1:00PM, December 27, 2001 at the Atonement Lutheran Church and Pastor Jim Engh officiated.
The family suggests that memorials be made in Wayne's name to Camp Mak-A-Dream, (www.campdream.org), or to the Missoula County Cancer Society, 3005 Queen St., Missoula, MT 59801.
Arrangements were directed by Garden City Funeral Home and Crematory.