In Memory
Charlie Spangler (Paper) - Class of 2000 VIEW PROFILE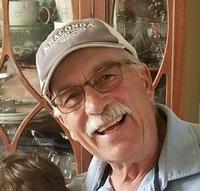 Charles L. Spangler
On May 27th, Charlie passed away at his home in Butte, surrounded by family.
Charlie was born in Anaconda, MT January 8th, 1948, to Lloyd and Irene (Schultz) Spangler. He graduated from Anaconda High School in 1966 where he excelled in both football and basketball. When not playing sports, Charlie could be found hunting and fishing. He spent his summers in the Big Hole haying at Wallace and Anne Christiansen's Ranch. After graduation, he joined the National Guard, and upon returning to Montana went on to attend Eastern Montana College with an emphasis in Education.
Charlie moved to Missoula in 1985 where he bartended at the Elks Club until he began a 14-year career at Smurfit Stone. It was there his future brother-in-law, Kelly, played matchmaker, pointing Charlie in the direction of his big sister, Vicky. What started as a "friendship" turned into the love of a lifetime that lasted 31 beautiful years. They enjoyed many adventures together from cheering on the Grizzlies, hunting, snowmobiling, camping, traveling, winters in Arizona, and their favorite golf.
One of their biggest adventures together was when they decided to change professions one last time. In 2000, Charlie and Vicky decided to was time to go back to school to become X-Ray Technicians. He always said it was the best thing he ever did. He enjoyed working the Radiology field in private practice until he retired in 2008.
Once retired, Charlie was able to continue to enjoy everything he loved about Montana, although now he saw the world through the eyes of his grandchildren. He discovered a love he never knew existed in the times he spent with them. He was so proud of each of them and loved hearing about their adventures while sharing some of his own.
Charlie truly had the best friends anyone could ever imagine. He cherished each of them, from the ones he's held on to since childhood, to the ones he has picked up in the recent years. There are many memories set in the Pintlers and Pioneers, ones that no doubt will be told for years to come at hunting camp.
Charlie is survived by his wife Vicky; his stepchildren Jamie Kearney (Toby Beavis), Mickey Kearney (Jenna), and Sam Kearney; his sisters Phyllis Grayson and Sharon Williamson; his brothers-in-law Rich (Lori) Jette and Kelly (Laurie) Jette; his nephews and nieces Charles, Mark, Barbara, Cathy, Scot, Allison, April, Nichole, Tommy, Reno, Travis and Lindsey; and his grandchildren, Ryan, Benjamin, Jayden, Regina, Alijah, Madison, and Brody.
Charlie was preceded in death by both of his parents, his brother Bobby, his mother and father-in-law Pete and Regina Jette, and his grandson Dylan Case.
A Celebration of Life will be held Saturday, June 18, 2022, at 1:00 p.m. at the Anaconda Country Club, 1521 Country Club Road, Anaconda, MT. A reception will follow the service. A private burial will be held by the family at a later date.
Our family wishes to extend our sincere thanks to Cheri Browne, Jack Pipinich, Pat and Joy Connors, Janet Lindh, Sister Mary Jo, Senior Solutions Hospice, Axelson Funeral Services, and the kindness he received at St James Healthcare. Memorial donations may be made to the charity of your choice.
Please visit www.axelsonfuneralhome.com to offer the family condolence or share a memory of Charlie.
Rest in Peace dear Friend.
Click here to see Charlie's last Profile entry.