In Memory
Ralph Espinoza (A-Mechanic) - Class of 2007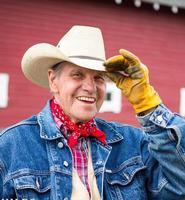 Ralph "Dib" Espinoza
1941-2019
ARLEE — A beloved member of the Arlee community passed away on Saturday, Feb. 23, at St. Patrick Hospital in Missoula. Ralph "Dib" Espinoza went peacefully. He was with his family and holding hands with his best friend and wife, Valerie (Seaholm), formerly of Grass Range. They were married nearly 40 years. Dib's family was the most important thing to him and his greatest accomplishment. The family reunion every summer with his kids, grandkids and great-grandkids gave him tremendous joy.
Dib, 77, was a larger-than-life character in the Jocko Valley. He was striking, charismatic and fun-loving. He embraced life fully and loved to laugh. Dib enjoyed hearing and telling stories, especially around a fire, and teasing. He also had no filter.
He was an Indian world champion cowboy, a rodeo pick-up man and a pipe-fitter and welder. Dib referred to his profession as being a "master manipulator of molten metal." He designed and welded western art for many of his family and friends. He also was an Arlee High School sports fan and a member of the Arlee Brown Building Board. Dib never went by Ralph. He got his nickname from his mother, Annie (Keenan) as a young child. He gave people nicknames as well. Dib spent his entire life in the small, Lake County town on the Flathead Indian Reservation. In fact, he lived on the road his father, Pablo, built, Espinoza Drive. Dib was a proud Salish Tribal member. He was from a large, extended family and had many friends in Arlee and throughout western Montana. He touched many lives because of his rodeo career, various jobs and roles in the community. Among his jobs, Dib worked at the Smurfit-Stone Container Corp., pulp mill in Frenchtown for 20 years. He also worked in Colstrip at the power plant building the coal-fired generating units. He also loved doing work he could do riding a horse. He helped out at the Missoula Livestock Exchange and worked the starting gate during the horse races at the Western Montana Fair in Missoula. Dib was frequently asked to help with ranch cattle brandings.
Dib, a 1959 graduate of Arlee High, was the first person from his family to graduate from high school and he was so proud of that. Education was important to him and all five of his children graduated from college, along with two of his grandchildren so far. Dib married Alison "Alice" Christopher in 1960 and they had three daughters, Jan, Johnna and Jill. They divorced and he married Valerie in 1979 and they had two sons Phil and Rafe. He loved watching his kids participate in sports. Jan helped lead the Arlee Scarlets to a basketball state championship in 1979 and went on to play college basketball. Jill played high school and college volleyball. His sons were high school football and track stars. Phil won a high jump state championship in 1997 and Rafe was a consecutive and three-time pole vault state champion. Phil and Rafe both played quarterback for Arlee High's football team and went on to play college football.
Dib would bring a cannon to Arlee High football games and shoot off the cannon when the Warriors scored a touchdown. Dib and Valerie, an Arlee school employee for many years, took several trips to Washington D.C., in support of Arlee High's Close-Up program. Dib loved to travel and especially enjoyed visiting historical sites. He and his family traveled to Mexico City, Mexico, to see where his father came from. Dib went back to Mexico last year when Johnna (Cisneros) got married to George in Cancun. He visited the site of the Battle of Gettysburg in Pennsylvania. He took a helicopter ride over the Grand Canyon and stood on the horse racing track at Churchill Downs in Kentucky. Dib and Val went to the National Finals Rodeo in Las Vegas several times, which was a highlight.
Rodeo was a central part of Dib's life. He began riding horses when he was 4 and was still roping and riding into his 70s. He competed in the RCA — now the Professional Rodeo Cowboys Association (PRCA) — in the 1960s. Dib and his family traveled to rodeos with Wes Mapston and Teddy Schall and their families. He competed mostly in roughstock events, along with steer wrestling. He liked winning buckles when he could, but being around the sport and rodeo people was really what he loved. He transitioned to the Indian Rodeo Cowboys Association in the 1970s. While competing in the saddle bronc riding in 1971, his horse fell over backward in the bucking chute in Babb, Montana. A photographer snapped a now legendary picture of Dib still holding the bronc rein while the horse is about to fall on him.
He excelled in the saddle bronc and steer wrestling and won consecutive all-around titles in 1971-72 while competing in Alberta, Canada. He was 31 years old and it was the highlight of his rodeo career. Dib was a pick-up man at the Vinson Ranch Rodeo in Thompson Falls for several years as well as many other rodeos including the Arlee rodeo. Dib usually had three-to-four horses ready to pick-up on. He became popular with fans and at times was introduced as the "Tom Selleck of rodeo."
Dib faced many challenges throughout his life. The work ethic and strength he gained from his early childhood helped him overcome many of them. He was born in 1941 and grew up in a log cabin. Although there was no indoor plumbing and an outhouse for a bathroom, there was a ton of love for all. He hauled water, milked cows and got wood for the fire. Among his illnesses, Dib survived non-Hodgkin's lymphoma in 1999. He had a stem cell transplant and was so grateful to have beaten cancer to have nearly 20 more years with his family. Dib passed away last week due to heart and lung difficulties.
Dib is preceded in death by his parents, Pablo and Annie (Keenan); his brother Pablo Sr., "Sarge" and sister-in-law Nadine (Palmer) and his brother Carl and his sister Anita (Hanson) and brother-in-law Randy; his nephew, Pablo, Jr. "Chib," and grand-nephew, Rusty Hanson.
He is survived by his wife, Valerie (Seaholm); his daughters, Jan (Don) Garrison, Johnna (George) Cisneros, Lewisville, Texas, Jill (Michael) Christensen, Helena; his sons, Phil (Sarah) and Rafe (Robyn), Dickinson, North Dakota, and his grandchildren Dillon and Jaylyn (Garrison) and Daniel Parrent, Cut Bank, and Alli Christensen, Helena; Rae, Quinn, Kash, Nayara and Maci, Dickinson, N.D.; great-grandchildren Madison, Pablo and Glacier Garrison, and Levi Parrent, Cut Bank, MT.
A celebration of Dib's life will be held at 2 p.m. Sunday, March 3, at the Arlee Community Center, 34086 Pow Wow Rd., Arlee, MT 59821. A burial service will follow at the Jocko Cemetery, end of Agency Road, Arlee, MT 59821. A potluck dinner will be held at the Arlee Community Center after the burial. A contribution of a side dish would be appreciated. In lieu of flowers, donations may be made to the Arlee Brown Building Clubhouse, P.O. Box 701 Arlee, MT 59821 or to Arlee High School, 72220 Fyant St., Arlee, MT 59821 to help with restoring old faded graduation pictures that are displayed in the hallway. Dib liked a good party, so if you are inclined, please meet at the Brown Building at 6 p.m. to visit with family members and tip a few Miller Lites in honor of Dib.
Rest in Peace dear Friend.