In Memory
Lewis Ball (A-Mechanic -Instrumentation) - Class of 2002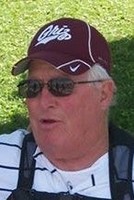 Lewis Ball
MISSOULA – Lewis Ray (Tiny) Ball, age 76, of Missoula, passed away Tuesday, March 8, 2016, at Sacred Heart Hospital, Spokane, Washington, due to complications from heart failure.
Lewis was born in St. Ignatius at the home on August 1, 1939, to parents Irving Ray and Myrna (Lewis). He is survived by his wife Fran; sister Rayna Larsen of Columbia Falls; brother Daryl of Tacoma, Washington; brother Keith of Lolo; daughter Kim Marie Stoltz of Florence; son Lewis Glen of Boise, Idaho; six grandsons; three granddaughters and one great-grandson.
He went to school in St. Ignatius where he was a standout football player, even though he was the smallest player, which is where he got the nickname of Tiny. He attended college in Billings at Rocky Mountain, and met his wife Fran of 56 years.
After marriage the couple moved to his parents' ranch in the Mission Valley, later moving to Missoula. Lewis went to work for the pulp mill in Frenchtown, retiring after 43 years.
Lewis was active in the Little Grizzlies football program and was a MHSA football and basketball official. He was active with the Sons and Daughters of the Montana Pioneers and on the board of directors, the Missoula Rural Fire Department as a volunteer for 20 years and on the board of directors for nine years, member of the Board of Realtors, Hellgate Radio club, volunteered with Missoula First Night, Homeless Connect, and held various offices for more than 40 years in the local AFL-CIO, such as secretary/treasurer and president. He was instrumental in multiple political campaigns.
Lewis served in the Army where they found he had a heart murmur and was discharged. Later in life it was determined that the murmur was due to valve damage. Lewis had an LVAD, which is a mechanical heart pump, placed in 2011. He spent countless hours going to fire departments and other service clubs to teach and familiarize staff with the LVAD and proper emergency response. Also, his great grandson Tayvin proudly brought Lewis to school to show off his battery operated grandpa.
Lewis spent his entire life wanting to help others and will be missed by all.
A memorial Service was held at the Lolo Community Church on March 12, 2016.
Rest in Peace dear Friend.