In Memory
Bill Schwaderer (Machine Tender -No. 3 Paper Machine) - Class of 2003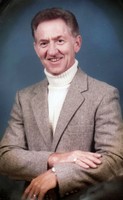 Bill Schwaderer
1936 -2014
MISSOULA – William Lee Schwaderer, 78, passed away Friday, March 14, 2014.
Born in Vananda on March 10, 1936, to Gottlieb and Dorothy Schwaderer, he was raised in Stevensviile with his eight brothers and sisters. In high school, he was a member of the basketball team and would have a lifelong love of sports, especially Grizzly basketball and football.
Bill enlisted in the Navy in 1956 and later worked briefly as a logger and then at the Coca-Cola plant before working for more than 40 years as a papermaker at the Frenchtown mill. In 1965, he married Marilyn Heath, and they enjoyed a happy marriage of 49 years.
A quiet and humble man, Bill had a deep Christian faith and taught his daughters by example. One of his favorite Bible verses was, "This is the day the Lord hath made, let us rejoice and be glad in it."
He was patriotic and had an abiding reverence for his country, always proud to see an American flag flying. Bill took care of himself, exercising faithfully to stay strong, and he worked hard to provide for his family. He felt honored to have been a mentor to his nephew, Randy Schwaderer, with whom he had a special relationship.
Survivors include his wife, Marilyn; daughters, Dawn and Laura; sister, Vi Tracer and her husband Norm; sister, Clara Wilson; in-laws, Will and Sara Lustgraaf and Dave and Tammy Engle; as well as many nephews and nieces.
Thank you to Jessica Maze of Home Instead and the nurses and staff of Partners in Home Care and Partners Hospice for taking such good care of him and enabling him to spend his final days at home.
No funeral service will be held, but Bill's family holds his memory incredibly dear. His wife and daughters look forward in hope to the joyous day of resurrection when it will be their profound privilege to see once again this most beloved and respected man.
Rest in Peace dear Friend.