In Memory
Ernst Handy (Recovery Operator) - Class of 1996 VIEW PROFILE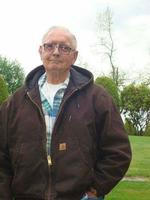 Ernst Handy
LONGVIEW, Washington — Ernest A. Handy was born July 7, 1929, in Crawford, Oklahoma to Harvey E. Handy and Adelina (Brandenburg). He was the oldest of five brothers.
Ernest married his high school sweetheart, Betty J. Rismoen on September 25, 1948, in Longview, Washington. Betty lived in Montana from 1957 to 1979 and passed on December 8, 2002, in Longview.
Ernst and Betty had eight children, Juanita & Douglas Nelson, Bonnie Huntington, Merry Edgar, Patricia & Robert Corn, Carol, Frank & Amanda Handy, Linda & Jim Halleck, Harvey & Elise Handy, 18 grandchildren, and 30 great-grandchildren.
Ernest loved Montana and moved the family to Frenchtown in 1957. He was one of 57 from the Longview area to be part of the startup of Horner Waldorf pulp paper mill. He retired in 1996.
Ernest loved the Montana mountains so much that he learned to oil paint and created many cherished paintings of Montana and its wildlife.
Ill health forced Ernst's move back to Longview with family till his death on March 26, 2019. His funeral was held at Greenhills Cemetery Chapel on March 29, 2019, where he was interred.
Rest in Peace dear Friend.
Click here to see Ernst's last Profile entry.