In Memory
Blaine Lovell - Class of 2008
Blaine Cole Lovell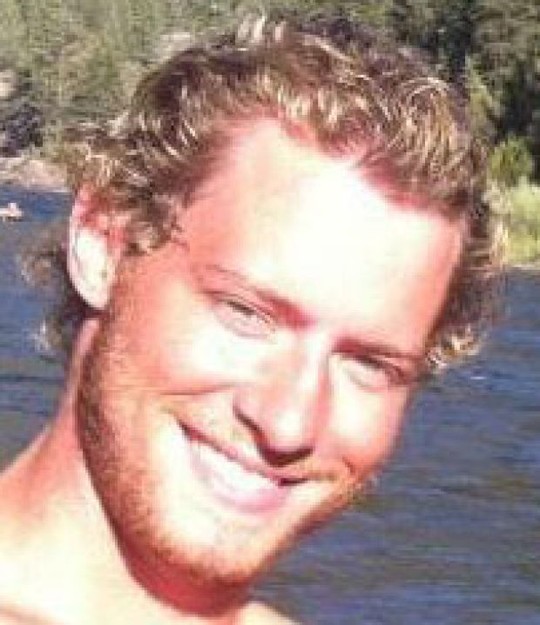 Sunrise: March 14, 1984
Sunset: Aug. 18, 2014
FRENCHTOWN – Heaven gained another beautiful angel Monday, August 18, 2014. Blaine received his wings and joined his twin brother, Brandon, and other loving family members in heaven. Blaine suffered a severe blood vessel rupture in his lung while waiting in Denver for his second double lung transplant.
Blaine and (twin Brandon) were born March 14, 1984, in Missoula to Jace and Gerri Lovell. Shortly after birth, the twins were both diagnosed with a genetic disease known as cystic fibrosis (CF). The disease primarily affected their lungs and digestive system. They were faced with many battles during their lives, but refused to let the disease define them.
Blaine grew up and went to school in Frenchtown. As a kid, he loved playing baseball, football and just spending time outside. He graduated from Frenchtown High School in 2002, and shortly after started working at Smurfit-Stone Container Corp. paper mill in Frenchtown as a summer student. The company helped him financially on his way into college at the University of Montana in Missoula, where he studied journalism. He always wanted to be a sports announcer on ESPN.
After going to college for a few years and working at Sportsman's Warehouse, he was offered a full-time position as a paper maker at the mill. He worked there until he was laid off in 2008 when one of the machines was shut down. Thereafter, Blaine's health began to deteriorate, and he was constantly in and out of the hospital. Even though he had several bumps in the road, it didn't stop him from doing what he loved: spending time with his family and friends, watching football and cheering on his Detroit Lions, hunting, floating the river, dancing, singing karaoke to George Strait and Garth Brooks, and driving everyone around on his party barge at the family lake house on Noxon Reservoir.
Of all the places Blaine had been, his favorite place to go was Mexico. Anytime he had the chance, he made a trip down and made it some of the best times of his life. Times he would never forget. Blaine loved life! He didn't care how much pain or surgery it would take just to spend one more day with his great friends and family.
In April 2011, Blaine was back in the hospital in Denver with a severe infection in his lungs, and near death. After 10 days in ICU, Blaine was placed at the top of the list in the region for a double-lung transplant. On June 1, 2011, he received "the call" of a lifetime to receive new lungs. From that point on, Blaine lived a whole new life he had never lived before, doing things that were once a dream: rifle and bow hunting at 9,000 feet elevation, hiking into mountain lakes, picking huckleberries, running in Bloomsday in Spokane, working out in the gym, even simple things we all take for granted such as holding a conversation without running out of breath.
For the first time in four years, Blaine was back to work again and he couldn't be happier. He was hired on as a switchman at Montana Rail Link. The past three years were the best times of his life, and it was all thanks to God and his donor. Receiving this miracle gift of life inspired Blaine to help other people in need of lung transplants. He helped set up many fundraising events, sent out words of encouragement to numerous CF patients and those in need of new lungs, and his biggest aspiration, promoting organ donation. He had many CF followers that he counseled and encouraged.
Blaine literally was living his life to the fullest, until he received some concerning news. In September 2013, Blaine's lung function began declining from over 114 percent down to 86 percent. Over the next few months, it began to drop approximately 15 percent every three weeks. In January, he was diagnosed with chronic rejection of his new lungs. In an attempt to stop the rejection he underwent several treatments; however, it did not seem to slow nor hinder the rejection.
Even though his health was declining, Blaine's attitude did not. He always had a smile, was positive he would beat this rejection, and survive another double lung transplant. After a few more trips to Denver, he was listed once again for another double-lung transplant. He was in the fight of his life once again and living one of his favorite quotes, "Don't give up … don't ever give up!" By the end of July, Blaine was moved up the list and was listed at the top. We all just knew it was a matter of days he'd be getting those new lungs – but God and bigger plans for Blaine and called him home.
From his first breath to his last, Blaine lived every day as if it were his last. He did not care what people thought of him and did anything to give people a good laugh. We all nicknamed him "Mr. Entertainment," which was perfectly fitting for such a unique and comical person such as himself. He was such an inspiration to all and left a lasting impression on everyone he had the pleasure of knowing. He had so many wonderful friends, and he couldn't wait to spend time with all of them whenever he could. Whether it was out dancing, singing karaoke, hunting, fishing or traveling to Mexico, the most important thing in his life was enjoying family and friends.
Blaine was preceded in death by his twin brother, Brandon; his Grandpa Bryce Putnam; his Grandma Carole Lovell; and great-grandparents, Keith and Evelynn Putnam, Burtram and Mary Nelson, Raynold Dobak, Marj Dobak, and Charles and Gladys Lovell.
He is survived by his loving parents, Jace and Gerri Lovell; his little sister, Lacey and her fiancé Rick Farnes; Grandma Bette Putnam Jensen; and Grandpa Jack Lovell. Also surviving are aunts and uncles, Sherri (Harry) Elkin and cousins Gary and Ken Meagher and families; Jeff (Deena) Putnam and cousins Shawna, Jennifer and families; Merry (Kurt) King and cousins Sarah, Kate and Ethan and families; Jami (Dennis) Iddings and cousins Tyler, Cody, Jordan and families; Frank Lovell; Kelly (Dan) Sullivan and cousin Brady and family; and numerous loving great-aunts and great-uncles and cousins too numerous to mention, whom he loved very much.
We love you, son, so much and until we meet again, keep an eye over us all, Wise Old Owl, because "we don't know the ways of the river."
A celebration of life was held Sunday, August 24, at Frenchtown High School and a potluck followed. Arrangements were made by Garden City Funeral Home. Blaine's wish would be for everyone to become an organ donor or make a donation to the Cystic Fibrosis Foundation.
Rest in Peace dear Friend.