In Memory
George Chaussee (Field Fireman -#4 Recovery) - Class of 1988 VIEW PROFILE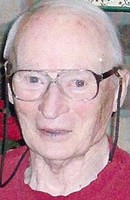 George Chaussee
1921 - 2010
MISSOULA – George J. Chaussee, 89, of Missoula, passed away on Friday, December 31, 2010, at The Springs in Missoula, of natural causes.
George was born October 22, 1921, in Missoula to George and Anna Chaussee. As a young boy he lived with his family on Montana Street and was educated in Missoula public schools. While in grade school and high school he spent every free moment either hunting or fishing, which he continued up to six years before his death. Those of us that knew him well recognized him as the master hunter and fisherman.
On September 23, 1949, he married Wilma Scott Buchanan in Missoula. Prior to volunteering for World War II, George worked at the Highlander Brewery along side his father and brother. He was in the U.S. Army from Jan. 7, 1942, until Dec. 31, 1945. After the war was over he returned to the brewery until 1964 when he went to work for Hoerner Waldorf at the pulp mill. Over the next 23 years George worked his way through the recovery department and retired on No. 4 recovery boiler as a field fireman.
In his retirement years, he spent as much time as he could hunting and fishing with his lifetime partner, his wife. He also enjoyed being at the hunting camp with his sons, his son in law, grandsons and friends.
Survivors include two sons, John (Judy) of Missoula, and George (Brenda) of Bigfork; daughters, Debbie, of Missoula and Lynette (Louis) Presta of Alabama; 10 grandchildren; 12 great-grandchildren; and his brother Jake (Joan) Chaussee.
George was preceded in death by his parents and his wife Wilma, who passed away on August 13, 2002.
A Memorial Service was held Wednesday, January 5, 2011 at St. Paul Lutheran Church with Pastor Chris Flohr officiating. The interment was held at Sunset Memorial Gardens Cemetery.
Rest in Peace dear Friend.
Click here to see George's last Profile entry.