In Memory
Marvin Jette (Recovery Supervisor) - Class of 2008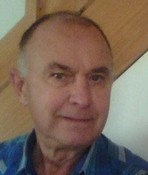 MISSOULA – Marvin Leroy Jette, 72, of Missoula went home to be with His Lord and Savior on Wednesday, August 18, 2010, at St. Patrick Hospital, after a short battle with cancer.
He was born on April 30, 1938, to Virgil and Ruby Hilton and joined his sister Evelyn. At the age of 5, his father died and at the age of 7, his mother Ruby married Eugene Jette, who later adopted him as his own.
Marvin attended school in Frenchtown. He loved sports and played them well. He graduated in his class of six in 1956. Marv hired on at the Frenchtown pulp mill in March of 1958 and worked there for the next 38 years.
On August 21, 1959, Marvin married Donna Rae Stonehocker of Trout Creek. They lived in Missoula for 10 years before moving to the family ranch on Mullan Road. He was a member of the Frenchtown Community Church.
His time away from work found them on their horses on day rides as well as several wilderness and backcountry rides. He was an avid hunter. His quick wit and ongoing jokes were a joy to everyone who was around. Marvin's family was his life and his generosity and love will remain in us all. He was blessed to know all of his children and grandchildren are walking with the Lord and was confident he will see them again.
He was preceded in death by his parents and his sister Evelyn Adler.
Marvin is survived by his wife of 51 years, Donna Rae; daughters Suzette (Lloyd) Dailey and Traci (Tim) Fister; grandchildren Josh (Danielle) McNeal, Tara (Marc) Greenacre, Renee (Dylan) Wyman, Raelene Dailey, Ryan Dailey, Kyle Fister and Eddy Esterbrook; great-grandchildren Evie, Cole and Audra Greenacre, Alana and Caleb Wyman, and Regan McNeal.
The family held a private burial. Memorial services were held at the Frenchtown Community Church at 2:00 PM Tuesday, August 24, with the Rev. Joshua McNeal officiating and was followed by an ice cream social.