In Memory
Pete Fritz (A-Mechanic Pipefitter) - Class of 1982 VIEW PROFILE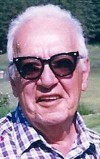 MISSOULA – Pete Fritz, 89, of Missoula, passed away on Saturday, September 11, 2010, at Bitterroot Valley Living Center in Stevensville.
Dad was born on June 25, 1921, to John and Titannia Fritz in Yonkers, N.Y. He went to school in Yonkers and worked as a caddy at the Yonkers Golf Club. Upon graduation from high school, he enlisted in the Army and served in Panama.
Later upon his discharge from the service, he was hired as a copy boy for the New York Times newspaper. He eventually became a sports writer for the paper. The paper job allowed my dad to know the N.Y. Yankees, N.Y. Mets, as well as Frank Sinatra.
His job lead my dad to Missoula, to attend the University of Montana in journalism. It was during this time that he met my mom, Clara Buss-Martin. They married on March 16, 1951. My mother was "The love of his life", as my dad so often stated.
During this time, my dad owned the Fritz Bar in Missoula. He sold the bar in 1960, and decided to go back to school to become a welder and pipefitter. In 1964, Pete went to work at the Hoerner Waldorf paper mill which became Smurfit-Stone Container. He retired there in 1982.
Pete was a member of the American Legion, the Pipe Fitters Union, Senior Citizen Center, ABC Bowling Congress and their church.
Dad loved to golf, fish, play bridge and bowl. He was Montana State Bowling Champion several times and represented the state in Miami at a pro bowlers competition. He even considered becoming pro, but felt that he would be spending too much time away from family.
My dad was an excellent father, and a very generous man. My parents loved to go to garage sales. The items they bought were often freely given to other people. He loved to eat and visit with other people. He was a great grandfather and never tired of sharing stories about his grandson, Chris, or his daughter, Pam.
Pete was preceded in death by children, Sharon Martin and Louie Martin; by his parents, John and Tatianna Fritz; brothers Andy Fritz, John Fritz, Nick Fritz, and Paul Fritz; and sister Ann Schneiller.
He is survived by the "love of his life," Clara Fritz of Missoula; daughter and son-in-law, Pam and Pat Cainan, of Missoula; grandchildren Chris Cainan of Gillette, Wyo., and Kelly Willey and family of Helena.
The family extended an invitation to Pete's friends to join the family at 11 a.m. Thursday, September 16, at Blue Canyon for services and lunch in Pete's honor.
Click here to see Pete's last Profile entry.