In Memory
Ray Hoff (Kamyr Cook) - Class of 1982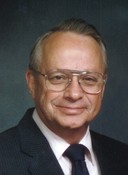 Ray Hoff
1920 - 2013
MISSOULA – Raymond George Hoff, 92, passed away Thursday, January 10, 2013, at Hunters Glen Assisted Living Facility in the company of his wife of 68 years, Dolores. Raymond was born July 26, 1920, in Richardton, N.D., to Liberius "Lee" and Catherine Gress Hoff. He was the eighth of nine children, and the last surviving of the siblings.
Ray grew up on a sheep ranch in Richardton, North Dakota, attending Assumption Abbey and then the University of North Dakota in Grand Forks. He married Dolores Lantz on September 4, 1944. They owned a dairy farm in Ulen, Minn., before moving to Powell, Wyoming, in 1949. Ray worked for Standard Oil, and the Hoffs owned a laundry and a Marshall Wells Hardware store. They moved with their growing family to Missoula in 1956, where they've lived ever since.
Ray worked for Missoula Mercantile and then Horner Waldorf Pulp and Paper Co. and then Champion International, from its construction for the next 25 years. He retired in 1982, saying he'd keep a stinky closet full of his old work clothes so he could remember what money smelled like.
Ray was an active member of St. Anthony Catholic Church and the Knights of Columbus. He served the church in a variety of ways, including as Eucharistic minister and a visitor to shut-ins. In 2008, he and Dolores received the Seniors of the Year award for their service at St. Anthony Catholic Church. He also proudly sang with the Rocky Mountaineers barber shop chorus for many years.
At home, Ray was known for his prize roses and his long morning walks, a regimen he kept up for decades. His children and grandchildren will also remember "Papa" for his singing and humming of made-up tunes and his drumming of knuckle-beats on kitchen countertops and any hard surface.
Raymond is the father of nine daughters and one son, all of whom survive him and will miss him dearly. He leaves behind his loving wife, Dolores; and his 10 children, Joan (Mike) Carroll of Woodbury, Minn., Julie (Len) Smisek of St. Michael, Minn., Rita (Ron) Klaudt of Juneau, Alaska, Raymond "Rick" (Dianne) Hoff of Missoula, Valerie Hoff of Missoula, Mary Lou (Doug) Lewis of Spokane, Gail (Tim) Mace of Beaverton, Ore., Leah (Steve) Anzalone of Spokane; Anne (Dave) Harris of Colbert, Wash., and Donna (Jerry) Mitchell of Hamilton. He is also survived by his 20 grandchildren, Cody Mace, Troy Mace, Benjamin Mace, Sara (Klaudt) Whitney, Joshua Carroll, Jacob Carroll, Katie (Lewis) Keller, Anne (Lewis) Fink, John Hoff, Dominick Hoff, Emily (Hoff) Haacke, Leanna Hoff, Molly (Morrison) Sherwood, Joel Morrison, Clare (Morrison) McKay, Lacy (Anzalone) McNair, Maggie (Anzalone) Simchuk, Rachel Harris, Danny Mitchell and Nichole Mitchell; and 18 great-grandchildren.
A memorial service was held at 10:00AM. Wednesday, January 16th, at St. Anthony Catholic Church with a luncheon following the service in the Parish Center.
Cremation is under the care of Garden City Funeral Home and Crematory.
Memories and condolences may be left for the family at missoulafuneralhomes.com.
Rest in Peace Dear Friend.