In Memory
Lance Heivilin (Summer Student) - Class of 1992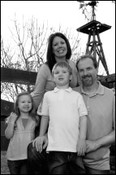 PETALUMA, CA – Lance Heivilin, of Petaluma, California died January 28, 2011 from cancer. He leaves behind his wife, Jennae; their son, Keegan, 7; and their daughter, Samantha, 4. Beginning in 1994, Lance worked in law enforcement for 16 years for the Mesa Police Department until his retirement. He and his family recently relocated to northern California where Lance worked for the San Francisco Police Department for 7 months as the director of the new Bay Area Regional Information Crime Center.
Lance was a summer student at the Frenchtown mill in 1992. He is also survived by his father, Jerry Heivilin (A-MECHANIC) and his brothers, Bryan and Myles. Lance was preceded in death by his mother, JoAn in 2003.
A memorial service was held February 12, 2011 at the Calvary Chapel in Petalima, California. A second service was held Saturday, February 19, 2011 at the Chandler Christian Church, 1825 Alma School Road, Chandler, Arizona.