In Memory
Tobias Wanner (Waste Fuel Panel Operator) - Class of 2002 VIEW PROFILE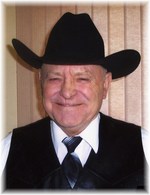 Tobias "Tobie" Wanner
Tobie Wanner passed away peacefully at his home in Lovell, Wyoming on January 23, 2012 at the age of 72. He was born January 13, 1941 in New England, North Dakota to Michael and Mary Eva Wanner. He lived in Lovell for the past five years, after moving from Missoula, Montana.
He loved spending time in the mountains and working with his horses. He throughly enjoyed the outdoors, especially hunting and fishing. Tobie served his country in the United States Air Force and is a member of the Church of Jesus Christ of Latter-day Saints. Tobias retired from the Frenchtown Mill, and worked as the Waste Fuel Panel Operator.
Tobie is survived by his mother, Mary Eva Wanner of Dickinson, ND; wife, Susan of Lovell, WY; son, Eric Wanner of Missoula, MT; two step-sons, Jay Croft (Trisha) of Lovell, WY and Jason Croft of Anchorage, AK; daughter, Kirstina Wanner of Oakland, CA; step-daughter, Treena Croft of Riverton, WY; brother, Donald Wanner [PAPERMAKER] (Robin) of Missoula, MT; sisters, Dorothy Fitterer (Paul) of Dickinson, ND, Benni Privratsky (Richard) of Dickinson, ND, Marilyn Reinhart of New Ulm, MN, and Emi Brennan (Mark) of Monrovia, CA; seven grandchildren; one great-grandchild; and numerous aunts, cousins, and one uncle.
He was preceded in death by his father, Michael J. Wanner, sister-in-law, Jan Wanner, and brother-in-law, Steve Reinhart.
Cremation has taken place and a picnic in honor of Tobie will be held at a later day on the Big Horn Mountains.
Condolences may be sent to the family online at
http://www.haskellfuneralhome.com/obits/obituary.php?id=146144
Click here to see Tobias' last Profile entry.