In Memory
Randy Hanson (A -Mechanic Millwright) - Class of 2001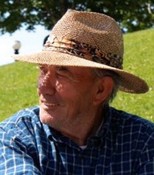 Randy Hanson
1936 - 2012
JOCKO VALLEY – Randy Hanson died of a stroke on Wednesday, August 1, 2012.
Randy was born on January 25, 1936, in Froid, Montana.
Randy spent most of his 76 years in the Jocko Valley. He moved there as a young man and fell in love with Anita Espinoza at first sight. They married two days after he turned 19 and spent the next 45 years together. They raised three children, Charles, Carla and Charleena. One of Randy's favorite roles in life was as Papa to Rusty Hanson, Anita Jean and Seth Hershman, his beloved grandchildren.
Randy's work ethic is legendary, and he spent much of his life doing physical labor and ranch work – always with the intention of providing for his family. For many years, he was a millwright for Stone Container. Randy often was praised for his ingenuity and the pride he took in his work. In 1985, he engineered something called the Hanson Chip Sampler that saved the mill and others around the country a great deal of money. Machining and jury-rigging were Randy's specialties. Give that man a tool belt and some duct tape, and he could fix just about anything.
Randy loved to be in a boat on a river or lake, fishing pole in hand. He treasured his fishing trips to Alaska. In his later years, he valued nothing more than to be with family, watching the young ones grow. Randy's heart was as big as the Montana sky, and many people benefitted from his generosity. He expressed love through service; giving and helping others gave his life purpose.
He is preceded in death by the love of his life, Anita; his grandson, Rusty Hanson; and siblings, Kenny Madsen, Ray Hanson, Mervin Hanson, Darlene Berg and Kay Spotted Bull.
Randy is survived by his children; two grandchildren; two sisters, Irene Davidson and Joyce Boos; and a vast network of in-laws (Lolita Hendrickson is more sister than sister-in-law), nieces, nephews, grandnieces, grandnephews and friends.
Deep thanks to the staff of 4 South at St. Patrick Hospital, who helped Randy and his family as Randy left this life.
A Celebration of Life was held Sunday, August 5, in Arlee.
Rest in Peace dear Friend.