In Memory
Denny Ryan (A-Mechanic -Electrican) - Class of 2008 VIEW PROFILE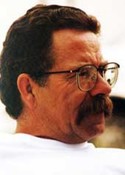 Denny Ryan
1950 - 2013
Dennis "Denny" Ryan, 62, of Missoula passed away in his hometown of Butte on Saturday, January 12, 2013.
Dennis was born to Edmund and Betty Ryan on November 11, 1950. He attended St. Ann's and Greeley elementary schools, and graduated from Butte High in 1968. He worked at Miners Market and Buttery's Foods before enlisting in the Navy. He served on the U.S.S. Okinawa during the Vietnam War and was honorably discharged in 1971. After his time in the service, Dennis went to work for the Anaconda Company as an apprentice electrician. He later worked for Montana Power, and then moved to Missoula to work at Smurfit-Stone Container. He was a member of IBEW and later USW Local 885.
Dennis was married to Janie Payne in 1972. They later divorced, but had one son, Eric. Dennis spent his leisure time skiing, fishing, camping, water skiing, bird hunting, and golfing. He shared these passions with his son, family, and good friends.
Dennis was preceded in death by his parents and brother-in-law, Bill Richards.
He is survived by his son, Eric of Spokane, Wash.; sisters, Katie and Maggie Ryan of Butte; brother, Dan Ryan of Cascade; brother and sister-in-law, Ed and Lori Ryan of Laurel; aunt and uncle, Mary and Ed Mondloch of Butte; niece, Lisa (Scott) Manley of Norman, Okla.; nephew, Shawn Ryan of Eagle River, Alaska; niece, Amanda (Mark) Scharff of Butte; nephew, Ryan (Kristi) Richards of Butte; nephew, Marc Richards of Great Falls; nieces, Mary and Jane Ryan of Laurel; and many great-nieces and nephews, and special cousins.
Visitation was held between 10 and 11 AM Friday, January 18, at St. Ann's Church with the funeral Mass following at 11:00 AM. Memorials may be sent to the charity of the donor's choice.
Express condolences at www.mtstandard.com/obits.
Tap 'er Light and Rest in Peace Dear Friend.
Click here to see Denny's last Profile entry.