In Memory
Harry Hansen - Class of 1982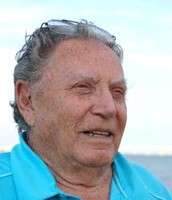 Harry Hansen
CLEARWATER, Florida. – Harold Allen "Harry" Hansen passed away Tuesday, November 5, 2013, at his home in Clearwater, Florida.
He was born on September 20, 1927, in Austin, Minnesota, to Henry and Cozette Hansen. After high school graduation in Austin and an honorable discharge from the U.S. Navy, he received his structural engineering degree from Oregon Technical Institute in Klamath Falls, Oregon. He was married to Nancy Carol Michael in 1955, and celebrated his life with Christ at Unity Church of Clearwater. Harry worked for Crown Zellerbach in Portland, Oregon, and then moved with his family to Missoula and later to Frenchtown, where he worked at Waldorf-Hoerner/Champion International until his retirement in 1982. Then he enjoyed a very successful career selling real estate in the western Montana area, retiring once again in 1989. He and Nancy happily retired to their home in Clearwater.
Throughout his life, Harry worked with young people in 4-H and Junior Achievement in Montana. He was actively involved in Jaycees in Oregon and Montana, and served one term in the Montana Legislature. Harry traveled extensively throughout the world for a major portion of his life.
He was preceded in death by his beloved wife, Nancy, and his parents. Harry is survived by five children, Michelle Cooper and husband Mitch of Kinston, N.C., Heather Pester and husband Wayne of Forsyth, Richard Hansen and wife Kathy of Lady Lake, Fla., Lisa Nielsen and husband Dennis of Frenchtown, and Julie Harlan and husband Kevin of Portland, Ore. He has nine grandchildren, Jaisen Pester and wife Jennifer of Idaho, Nick Ochs and Chris Ochs of Colorado, Brianna Pester of Montana, Dani Nielsen of Montana, Klint and Kaylie Harlan of Oregon, Nick Cowley of Salem, Mass., and Jason Cowley of Leesburg, Fla. He also has two great- grandchildren, Nathan and Allona Pester of Idaho.
A celebration of his life was held Sunday, November 10, at Bay Aristocrat Village in Clearwater. Future services will take place at St. John Baptist of Frenchtown; times have yet to be confirmed.
Rest in Peace Dear Friend.