In Memory
Ken Toner (Papermaker) - Class of 2002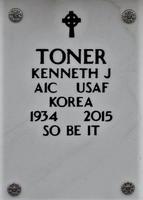 Ken Toner
Kenneth Joseph Toner was born October 13, 1934 in Big Stone County, Minnesota to Thomas and Florence Toner.
Ken, 80, passed suddenly at the scene of a tragic car accident January 16, 2015 in Tucson, Arizona.
A military interment service was held Friday, July 17, 2015 at the Western Montana Veterans Cemetery in Missoula.
Rest in Peace dear Friend.
---
On January 16, 2015, Ken was the passenger in a Chevy Impala in Tucson, Arizona. The front of a 2001 Chevy Blazer hit the passenger side of the Impala.
The 30-year-old woman driving the Blazer had minor injuries but remained at the scene. The two-year-old child in the car with her was in a car seat and was uninjured.
Information from The Arizona Daily Star. Link: www.Tucson.com