In Memory
Al Heare (Maintenance Foreman) - Class of 1980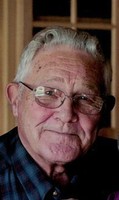 Allen Heare
MISSOULA – Allen Wayne Heare, 81, passed away of natural causes at St. Patrick Hospital on Monday, August 8, 2016. Al was born in Seattle on October 24, 1934, to Clifford and Ester Heare.
The family moved to Grand Coulee, Washington, early in his childhood where he attended school and graduated from Grand Coulee High in 1952.
Al married his high school sweetie Eva June Smeltzer on October 24, 1953. Al and Eva were blessed with four children, Ken, Deena, Rita and Tony.
He worked construction until 1955 and Shell Oil in Anacortes from 1955-1960. The young family moved to Montana in 1961 and Al worked maintenance for the paper mill in Frenchtown.
For a short time in 1962 the family moved to Rosalia, Washington, where Al worked for the gas company.
He missed Montana and brought his family back to the Frenchtown area in 1963 and went back to work for the paper mill.
In 1980 after raising their family Al and Eva bought Napa auto parts stores in Umatilla, Oregon, and ran them together until they retired in 1992.
Most of their vacations in the early years were spent with family and friends horse packing in the Bob Marshall and other wilderness adventures around Montana.
Al and Eva spent their retirement years RVing around the United States and Canada where they formed many lifelong friendships.
Al is survived by his wife of 62 years, Eva of Missoula; daughter Deena Putnam (Jeff); daughter Rita Goerlich (Ed); son Tony Heare and daughter-in-law Sharon Heare; grandchildren Shawna and Jennifer Putnam, Alyson Heare, Seth Goerlich and great-grandson Reily Putnam, all of which he was very proud of.
Al was preceded in death by his parents Clifford and Ester; sister Patricia and son Ken.
The family would like to give special thanks to Dr. Snyder, Dr. Sheehan, Dr. Hecker and the nursing staff at Saint Patrick Hospital for their compassionate care.
The celebration of his life was held August 13, 2016 in the Frenchtown High School commons area.
In lieu of flowers please make donations in Al's name to a charity of your choice.
Garden City Funeral Home is assisting the family.
Rest in Peace dear Friend.