In Memory
Rosemary Deschamps (Nurse) - Class of 1972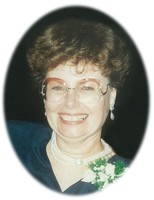 Rosemary Fay Deschamps
FRENCHTOWN – Rosemary Fay Deschamps, 82, of Frenchtown, passed away on Saturday, March 19, 2016, at St. Patrick Hospital, of natural causes.
She was born on Feb. 25, 1934, in Missoula, to Gladys Burdett Reinhard and John Reinhard. As a young girl she lived with her family on the north side of Missoula and was educated at Missoula County High School. She then went on to graduate from St. Patrick School of Nursing in 1956 and became a registered nurse.
On November 24, 1956, she married Alfred G. (Freddie) Deschamps of Frenchtown. The couple lived on Mullan Road in a remodeled ranch house until 1983. Then they moved to another location of their ranch on Mill Creek Road where Freddie and their three sons built Rosemary her dream home.
Rosemary worked at St. Patrick Hospital and then became the first registered nurse at Hoerner Waldorf paper mill from 1964 to 1972. Then she decided to raise her three boys and dedicate her life to the ranch, family and community.
She was instrumental in reducing the long distance telephone rates of calling from Frenchtown to Missoula. She also helped implement a new railroad crossing in Frenchtown, so people would no longer be able to drive their cars through the school zone on Mullan Road endangering students' lives. She was a member of Missoula Soroptimist, which raised money for the community.
She loved to paint, crochet, dance, ski, gardening and flowers. She loved the ranch life, was a loving wife, mother and loved to see her grandchildren grow up. Rosemary grew up in the city, worked to educate herself, met her cowboy, moved to the country, raised her family and turned into a cowgirl.
She was preceded in death by her father and mother. Survivors include her husband Freddie; her three sons, Barry, Bryan [Shift Utility] and Brett; her four grandchildren, Bridger, Darby, Augustus and Bryanna Deschamps.
A Mass in Rosemary's honor will be held on Tuesday, March 29, at 11 a.m. at St. John the Baptist Catholic Church in Frenchtown. In lieu of flowers, please send your donations to Providence Montana Health Foundation of St. Patrick Hospital.
Condolences may be left for the family at whitesittfuneralhome.com.
Rest in Peace dear Friend.