In Memory
Bob Fristo - Class of 2010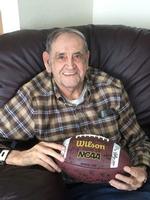 Bob Fristo
Robert "Bob" Marshall Fristo was born August 15th, 1932 in Missoula Montana to John "Jack" and Nellie Fristo passed away peacefully of natural causes at The Village Healthcare Center on July 10th, 2018.
To Bob family was everything. Whenever his children, grandchildren, or great-grandchildren, would enter the room, Bob's eyes would light up. He never missed his granddaughters' sporting events. Bob was an avid sports enthusiast. He loved playing a pickup game of basketball with his family, bowling at Liberty Lanes, and golfing at Whitetail Golf course with his brother Jim and other members of his family. Bob passed on his passion for golf to his daughter and granddaughters. Bob was also a University of Montana Grizzly fan. He loved watching the Lady Griz and Grizzly Football team live with his sister Mickie and other members of his family.
Bob is preceded in death by his son Brad Fristo, his parents Nellie and Jack Fristo; Brothers Jack, William, Richard, and Jim Fristo: and sisters Nellie Blake, Mayme Francis, and Mildred "Mickie" Richards.
He is survived by his daughter Cathy (Ray) Tripp, granddaughters Brandi (Scott) McDonald, and Lindsay (Eric) Abrams, and great-grandchildren Madison McDonald, Jackson McDonald, and Marshall Abrams; as well as many nieces and nephews who held a special place in his heart.
There will be no funeral services per Bob's wishes. Many thanks to the staff at Brookdale for all the loving care they gave Bob over the last 2.5 years. In lieu of flowers, a donation to the American Diabetes Association would be greatly appreciated.
Rest in Peace dear Friend.