In Memory
Glen Weisenburger (A -Mechanic -Welder) - Class of 1998 VIEW PROFILE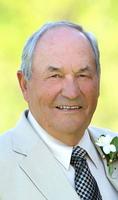 Glendell D. "Glen" Weisenburger
MISSOULA — Glendell Duane Weisenburger, 83, of Missoula passed away on November 16, 2019, at St. Patrick Hospital of natural causes. Glendell was born March 7, 1936, in Tuttle, North Dakota. He was the seventh out of 14 children born to John and Lydia Weisenburger. He grew up working on the family farm and attending school in Tuttle.
On June 28, 1959, he married Betty Kay Nelson. They celebrated their 60th wedding anniversary last summer. The couple lived in Tuttle until 1966, where Glendell owned and operated the local blacksmith shop and sang with two of his brothers in the "Weisenburger Trio." In 1966 they moved to Missoula where he worked for Westmont Tractor for several years as a welder fabricator. He retired from Smurfit Stone Container in 1998 where he was a highly regarded and talented welder fabricator for 15 years.
He was a member of the Missoula Trap and Skeet Club for decades where he was well known for regularly shooting 25's. He passed on his passion for trap shooting to his children and grandchildren. He was an avid snowmobiler and a longtime member of the Missoula Snow Goers Club, the Seeley Lake Snow Drifters, and Grace United Methodist Church. He also had great times hunting prairie dogs with his two best friends, Court Lee and Jack Peterson.
Glendell was incredibly proud of his home on Lake Inez where he enjoyed 30 years of family fun; boating, waterskiing, snowmobiling and 4-wheeling. These were treasured memories for his family and friends. He was renowned for his meticulously cared for lawn and his impeccably clean garage and vehicles.
He was a hard-working man who was always whistling his favorite tune while he worked. A true family man and people person, where no one was a stranger, Glendell was a friend to many. His quick wit and teasing nature will never be forgotten. Endlessly proud of his children, grandchildren, and great-grandchildren, he was a wonderful husband, father, grandfather and father figure. We love you Glendell, Dad, Grandpa and Papa.
Preceded in death by: His parents, siblings and in-laws, Rachel (Julius) Wolff, Maynard (Maxine), Shirley Gruebele, Mildred Rask, Stanley, Leon, Donnie, Gary, Vivian Weisenburger, Jim Clapham, and grandson-in-law Josh Tripp.
Survivors include his wife, Betty, Missoula; daughters Tami (Ed) Alexander, Frenchtown, Kim (Brad Holtorf) Sizemore, Covington, Washington; Sharla (Tom) Dauenhauer, Seeley Lake; grandchildren Tanna Gushiken, Cody (Tara) Weisenburger, Rachelle Tripp, Dustin Weisenburger, Jacob, Joseph Alexander, Bryce Sizemore, Dani (Bryan) Thueringer, Bridger, Andy and Blaine Dauenhauer; great grandchildren Brayden Crusch, Bentli and Finley Weisenburger; siblings, Wilbert (Debbie) Weisenburger, Garold, Arley (Sylvia) Weisenburger, Gladys Clapham, Janice (Andy) Anderson, brother in law Vern Rask and sisters in law Julie and Eunice Weisenburger; many nieces and nephews.
Visitation will be on Sunday November 24 from 2-4 p.m. at Sunset Memorial Gardens with the funeral services on Monday November 25 at 11 a.m. at Missoula Alliance Church. A reception will follow services. There will be a private family burial.
In lieu of flowers please send memorials to The Missoula Trap and Skeet Club or to Grace United Methodist Church. Condolences may be left at gardencityfh.com
Rest in Peace, dear Friend.
Click here to see Glen's last Profile entry.