In Memory
Jim Walchuk (Technical Department) - Class of 1984 VIEW PROFILE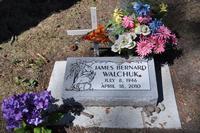 Jim Walchuk
James Bernard Walchuk was born July 8, 1946 to Pete and Pearl Walchuk in Chicago, Illinois . Jim passed away Sunday, April 18, 2010. At the time of his passing, he was a resident of Ontonagon, Michigan. Jim attended Carroll College in Helena, Montana, where he pursued a degree in Mathematics.
Jim Walchuk and Susan J. Rusanowski married in LA in 1968.
A Celebration of Jim's life was held on Friday, April 23, 2010, at the Holy Family Catholic Church in Ontonagon. He is buried in the Ronan Cemetery. Jim's Family suggests that memorial contributions may be forwarded to the Hope Lodge in Marshfield Wisconsin at the American Cancer Society Hope Lodge 611 W. Doege Street Marshfield, WI 54449, or to the charity/organization of the donor's choice.
Rest in Peace dear Friend.
Click here to see Jim's last Profile entry.